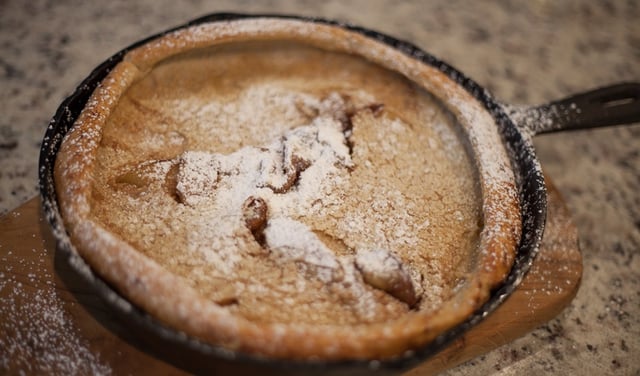 Everybody knows one of the best ways to show your mom you love her is to wow her with an amazing brunch and some good ole quality time. Whether you opt for taking her out to a fancy cafe, or making her favorite breakfast at home, here are some good ideas for wowing her.
Homemade Is Better (Unless It's Not)
If you were raised with a knack for cooking, then by all means hit the kitchen and show those skills off. French toast, eggs and bacon, or some belgium waffles are just some of our favorite ideas. If you want to try something new, check out this recipe for a dutch baby that we love.
Dutch Baby
INGREDIENTS
2 Eggs

½ Cup of milk

½ Cup sifted all-purpose flour

1 Pinch ground nutmeg

1 Pinch salt

2 Tablespoons butter

2 Tablespoons powdered sugar for dusting
DIRECTIONS
Preheat oven to 475 degrees and place your 10 inch cast iron skillet inside the oven.

Beat eggs, add milk and stir.

Gradually add the dry ingredients.

Remove the skillet from the oven and reduce heat to 425 degrees.

Melt butter in hot skillet so the inside of the skillet is coated in butter, then pour the batter into the skillet and return to oven.

Bake until puffed and lightly browned - around 12 minutes. Remove and sprinkle with powdered sugar.
Don't forget to grab some appropriate beverage choices. A Mother's Day brunch is the perfect opportunity for a nice cocktail, but if your mom isn't a big drinker you can still enjoy our new favorite: The Mocktail. Mocktails include all of the delicious ingredients of popular cocktail drinks - minus the alcohol. One great option is the Grapefruit Mojito.
Grapefruit Mojito
INGREDIENTS
1 Teaspoon cane sugar

4-5 Mint leaves

1 Lime, cut into wedges

¼ Cup freshly squeezed grapefruit juice

Sparkling water

Clean ice
DIRECTIONS
Muddle the sugar, mint leaves, and juice from one lime wedge until sugar dissolves. You can use the end of a wooden spoon or something similar.

Add grapefruit juice and stir. Fill the rest of the glass with sparkling water and fresh clean ice.

Garnish with mint leaves and lime wedge and enjoy!
Not into baking, or would rather not chance it on such a special day? Hit up your mom's favorite cafe or breakfast joint. If she doesn't go out much splurge for someplace she would never try on her own to make it extra special. The bottom line is Mother's Day is a great day to show your mom you love her and appreciate her, even as adults. Call her up and invite her to breakfast.