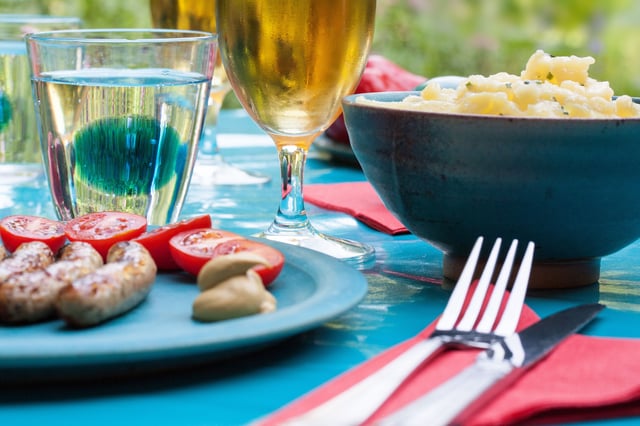 Each Fourth of July millions gather in back yards to celebrate America's Independence Day while indulging in the classics: burgers, hot dogs, potato salad, baked beans and more. For many this is an all day event, unhindered by work, where friends and family come together potluck-style to celebrate and spend time together. Hopefully they enjoy some fireworks, too!
All day picnic celebrations can lead to some harmful food safety failures that can be avoided. Here are some helpful tips that will keep your picnic safe for everyone.
Cold Foods
While July Fourth is known for grilling, it is also full of salads: potato salad, macaroni salad, chicken salad, etc. Many cold salads have mayonnaise as an ingredient and need to be kept at a temperature of 40 degrees until ready to serve. After serving lunch these foods should be kept out no longer than two hours (or one hour if it is warmer than 90 degrees outside). If food sits out longer than these time limits they should be discarded. If you're planning on having an all day picnic consider breaking the salads into two bowls, and keeping one in the fridge until the late afternoon/dinner hours.
TIP: If you have cold salads you can help keep them cold longer by placing their bowls in a larger container of ice. Be sure to continually drain off water and refill the ice.
Hot Foods
Good grilling starts with the marinate, and this Fourth of July we want to remind you to marinate safely. Always marinate your meats in the refrigerator, NOT on the counter. Additionally, if you are making your marinate work double-duty as a sauce for the finished product, be sure to reserve some of it in a separate container and NEVER use marinate liquid that has had raw meat in it.
Once you begin grilling you'll need to keep safe cooking temperatures in mind. If you're cooking up some fresh beef steaks the temperature should come to 145 degrees and have three minutes of resting time. For a full list of safe cooking temperatures check out this chart by foodsafety.org.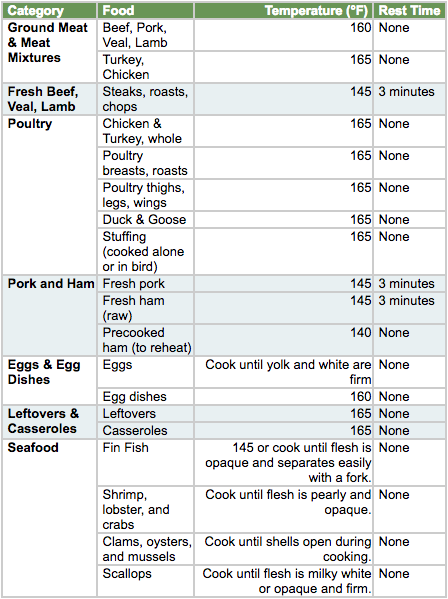 The same rule applies for hot and cold foods. Do not leave them out for more than two hours.
Prevent Cross-Contamination
Picnics and grilling don't always make it easy to practice good food safety techniques, but be sure to be diligent against cross-contamination. If a utensil or plate held raw meats waiting to be grilled be sure to set them aside for cleaning and do not reuse. Have a fresh plate already prepared and set aside for when the meat is done cooking.
Clean Ice
A common practice on July Fourth is to have a cooler full of water bottles, sodas, and other festive beverages. It is important to give your guests access to clean ice for their glasses instead of using ice straight from the coolers. Consider having a separate covered ice bin with an ice scoop to keep everyone's hands or dirty bottles from touching ice meant for consumption.
Clean Hands
And of course we must mention clean hands. As always, one of the best ways to prevent germs from spreading is good hand washing, and this is no different at a picnic. Whether you are handling raw meats during prep, or your sick baby niece, please remember to wash your hands before eating!
We hope everyone has a wonderful and (food) safe Independence Day!